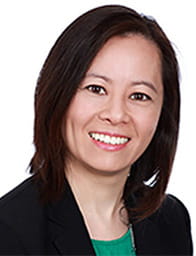 Debbie Wong, CPA, CA, CRPC®
Vice President, Tax Consulting, Private Client Group, Raymond James Ltd.
Debbie joined the investment services business after deciding to focus her time on helping people with their tax concerns through value-added services rather than through a fee-for service model utilized in public practice.
As part of our team of private wealth professionals, Debbie works with our financial advisors to guide their high net worth clients towards practical solutions to their tax issues. She has expertise in Canadian and U.S. personal tax, specific issues affecting U.S. citizens or Green Card holders, and cross-border tax (immigration and emigration). Debbie joined Raymond James in 2004 as the Tax Manager in Operations and then transferred to Private Client Solutions in 2013.
Prior to joining Raymond James, Debbie gained ten years of experience working in public practice as an expatriate tax manager at a major international accounting firm and articled at an accounting firm handling financial reporting and tax compliance for small business families. Debbie obtained her chartered accountancy designation (CA, CPA) in 1998. She also earned the U.S. Chartered Retirement Planning Counselor designation (CRPC®) in 2018 to expand her perspective on the unique planning needs of our cross-border clients.
Janine Davies, MBA
Vice President & Executive Director, Raymond James Canada Foundation
https://www.rjcfoundation.ca
As the Executive Director of the Raymond James Canada Foundation, Janine Davies directs the workplace giving and client philanthropy programs nationally for Raymond James Ltd, Canada's largest independent brokerage firm. Under Janine's leadership, the Foundation serves as a catalyst to mobilize the cumulative resources of Raymond James at both corporate and grassroots levels to make a meaningful impact in communities across the country.
Janine works directly with RJL advisors and their clients to develop personalized strategic giving plans that align with both their philanthropic and financial goals. Janine employs a donor-centric, consultative approach to philanthropy, working with accountants, lawyers, and estate planning advisors to craft customized solutions for each client.
In addition to her 25 years of experience in banking and finance, Janine is strongly committed to her community and a firm believer in the importance of stepping up as a leader in the public realm. She presently sits as special advisor to the board of Drug Free Kids Canada, and an active member of both Canadian Association of Gift Planners (CAGP) and on the Executive of the Estate Planning Council of Vancouver (EPCV).
Sophisticated wealth management
Snowbirds Wealth Management

566 Lougheed Hwy

Coquitlam, BC V3K 3S3
Website legal disclaimers
Raymond James Ltd. is an indirect wholly-owned subsidiary of Raymond James Financial, Inc.
Securities-related products and services are offered through Raymond James Ltd., member Canadian Investor Protection Fund.
Insurance products and services are offered through Raymond James Financial Planning Ltd, which is not a member Canadian Investor Protection Fund.
Raymond James Trust Services are offered by Raymond James Trust (Canada) in the provinces of British Columbia, Alberta, Saskatchewan, and Ontario, and by Raymond James Trust (Québec) Ltd. in the province of Québec. Both entities are wholly owned subsidiaries of Raymond James Ltd. Trust Services are not covered by the Canadian Investor Protection Fund.
Use of the Raymond James Ltd. website is governed by the Web Use Agreement.
Raymond James (USA) Ltd. All rights reserved. Raymond James (USA) Ltd. (RJLU) advisors may only conduct business with residents of the states and/or jurisdictions for which they are properly registered. Therefore, a response to a request for information may be delayed. Please note that not all of the investments and services mentioned are available in every state. Investors outside of the United States are subject to securities and tax regulations within their applicable jurisdictions that are not addressed on this site. Contact your local Raymond James office for information and availability. This website may provide links to other Internet sites for the convenience of users. RJLU is not responsible for the availability or content of these external sites, nor does RJLU endorse, warrant or guarantee the products, services or information described or offered at these other Internet sites. Users cannot assume that the external sites will abide by the same Privacy Policy that RJLU adheres to. Investing in foreign securities involves risks, such as currency fluctuation, political risk, economic changes, and market risks.
Please Click on the link below to acknowledge your consent to receive our newsletter via email.
*You can withdraw your consent at any time by unsubscribing to our emails.